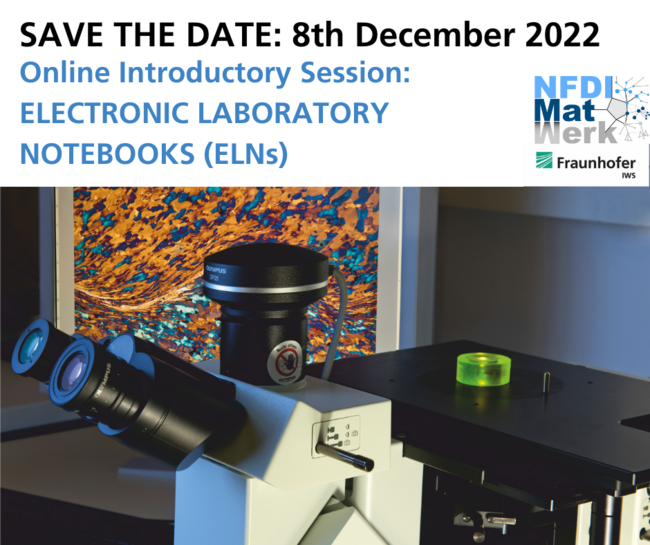 The paper lab book is passé. Most of our research data are digital by design. The paper lab book is passé. The electronic lab notebook (or ELN) is a digital version, a software platform, of the traditional lab notebook to record and store experimental results. Other obvious benefits of ELNs include data sharing, access, and analysis.
Several ELNs are already in active use in our NFDI-MatWerk community. In the online introductory event, six subject matter experts will present six different ELNs for 20 minutes each, using illustrative examples. Here, the basic functionalities of ELNs are illustrated using graph and image data from the MatWerk area.
You can exchange experiences with the experts on the following ELNs:
- eLabFTW (Nicolas Carpi, CEO of Deltablot)
- openBIS (Dr. Caterina Barillari, ETH Zürich)
- PASTA (Dr. Steffen Brinckmann, Forschungszentrum Jülich)
- Labfolder (Sarah Yazigi, Labforward GmbH)
- Chemotion (Dr. Nicole Jung, KIT)
- NOMAD OASIS (Dr. Markus Scheidgen, FAIRmat, Humboldt Universität zu Berlin)
We look forward to your active participation. The registration link you find here.
If you have questions, feel welcome to contact: Elisabeth Elschner (Task Area Community Interaction)