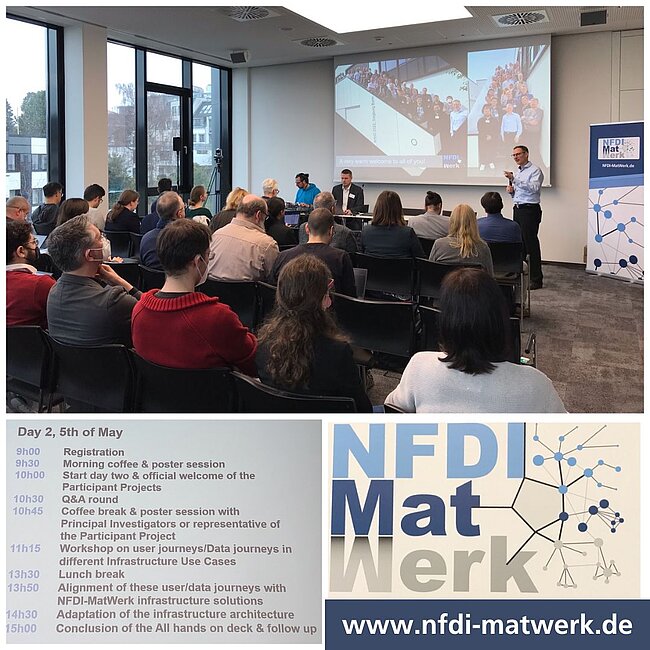 The two-day meeting was again held on-site and online at the Rhein Sieg Forum. In addition to representatives of the Task Areas Strategy Development (TA-SD), Materials Data Infrastructure (TA-MDI), Ontologies for Materials Science (TA-OMS), Community Interaction (TA-CI) and Workflows and Software Development (TA-WSD), representatives of the Participant Projects were also invited.
The aim of the event was to present the current results in the Task Areas, to ask for mutual needs and those of the Participant Projects, and to develop an overarching strategy on the way to digital research data management in materials science. 64 participants attended the exchange to share their experiences and the latest results.
The participants exchanged ideas in workshops on the development of a shared vision of the infrastructure, data journeys in the different Infrastructure Use Cases (IUC) and the alignment of this data journey with NFDI-MatWerk infrastructure solutions. There were many opportunities for networking during the evening event and beyond.
The next big event is planned for June 2023. The aim of the 1st NFDI-MatWerk Conference is the development of a common vision of digital transformation in materials science and engineering. There, the first examples of the implementation of the necessary overarching elements and already existing software tools from the community will be presented. Another highlight of the program is the participation possibility of participants in short hackathons and workshops to get to know these tools. Last but not least, new Participant Projects can introduce themselves to the community in order to be included in the NFDI-MatWerk.
Book your NFDI Conference Ticket